Sports off to a flying start - first County Championship and more...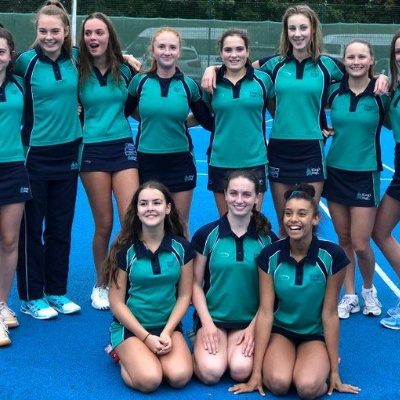 The season is off to a flying start for the King's High and Warwick Prep Sports department. The U16 Netball team have been crowned County Champions, following some brilliant play, and go through to the next round unbeaten. The U14 Tennis team, Lucia, Holly, Ottelia and Maddie defeated Bromsgrove 6-0 to progress through to the Regional Finals of the LTA Team School Tennis competition. (Back in the summer, Ottelia had the distinction of winning a match on grass at Wimbledon. She was one of 42 girls who qualified out of some 17,000 U14 players nationwide, to play in the tournament at Wimbledon). Our swimmers have the ESSA National Finals in their sights, powering through a qualifier that saw the girls win 7 races out of 8. Playing all A teams from other schools, the U14B team finished joint 3rd in the Tier 2 County Hockey Tournament. Eleven girls have been in action in the Cross Country Cup. The Juniors finished First and qualify for Midland Finals. The Inters (Years 9 and 10) were Third, and were very unlucky to miss qualifying by just 1 point!
Playing in their first tournament for King's High – the Loughborough Festival – the U12A Hockey team sailed into the semi-finals without conceding a goal, and finished runners-up, after facing a very strong Loughborough team in the final. It is not unusual to have 100 girls out playing for King's High at various venues in the Midlands over weekends, and there have been wins for all our Hockey, Netball and Tennis teams. The U12 and U13 Hockey teams had a dream start to the season - 6 wins from 6 games, 26 goals scored and only 1 conceded. The U19 Netball team have been competing in the Independent Schools National Netball Cup.
Girls have been trialling for Wasps Netball, and Lizzy has been training with England Hockey. Pupils on the Talented Athletes Programme trained with Project MVP, the UK's first fitness testing and data analytics company. And Coach Bryce has been busy with our younger Warwick Prep teams. In a block Hockey fixture, all Year 6 girls were in action against Bromsgrove, with a win, two draws and two losses, while the E Team enjoyed a thriller of a match, finally losing out 5-7! And in exciting Football news, Warwick Prep U9's were crowned Central Warwickshire Champions, and go on to the County Championships.