Record King's High entries for BBC Radio 2's 500 Words story competition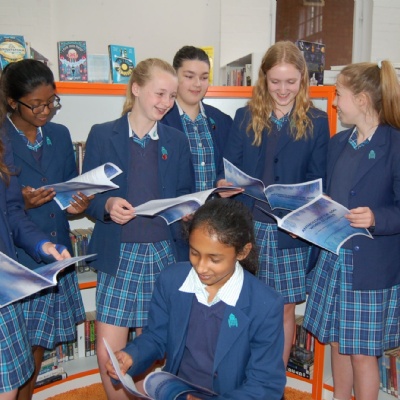 Fourteen pupils from Years 7-9 entered BBC Radio 2's 500 Words story competition, as part of their 'Inspire' work. 500 Words is the UK's most successful short story-writing competition for children aged 5-13 in the UK. 134,790 children entered the competition last year. Since Chris Evans launched 500 Words in 2011, the BBC has received over 800,000 entries. This year's final will be broadcast live on 14 June from Windsor Castle, with Zoe Ball and HRH The Duchess of Cornwall, on BBC Radio 2's Zoe Ball Breakfast Show.
The girls wrote some brilliant stories – original, funny, sad, thought-provoking – and edited and produced their own anthology, which has been distributed to friends, family, and fans, and displayed in the library. As the hard-working Editorial team, Jashany, Neha, Megan, Charlotte and Sophie, say: 'There were lots of wonderful stories, all very entertaining. From evil gates to lost cats we really do have it all!' (You can read their stories by downloading the attachment below).
King's High Old Girl, Flo Hatton (currently to be heard broadcasting on the Arts on Soho Radio), is an Assistant Producer on Radio 2's 500 Words.
King's High's 'Inspire' programme offers a range of opportunities beyond day-to-day schoolwork, all with the aim of encouraging intellectual curiosity, independence and creative thinking.