Sports Roundup: National competitions news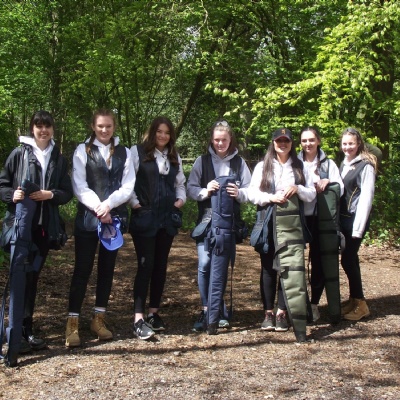 King's High's sportswomen have been busy competing on the national stage again.
After winning the William Powell Schools competition, the Claypigeon teams defended their Four Times Crown (2015, 2016, 2017, 2018) at the National Schools Championships. They came second and third (just 5 targets behind the winners). All performed really well on a very challenging course in some very changeable weather. The teams are focussing now on regaining 'their' Championship next season! Congratulations, Chloe, Cassie, Nina, Freja, Sophie, Elizabeth and Jecca.
King's High finished fourth in the UK at the National Waterpolo Finals. The girls' campaign included scoring the first goal of the tournament (against Alleyns) and a fabulous game against Bolton School, winning 4-3, culminating in a tense semi-finals, that went to penalties.
In Equestrian news, former Royal Windsor and Horse of the Year Show champion, Alice competed in the Cob Championships at Royal Windsor Horse Show, and Tillie has qualified for the School Equestrian Games Eventing Championships at Broadway in October.
In Fencing, Anne represented the West Midlands in the Under 14 girls Epee at the British Youth Championships' National Age Group Finals at the England Institute of Sport in Sheffield. She had a good first round, winning three of her six fights, then met one of the top seeds, but fought very well, to finish 23rd overall.
At the 108th Midlands School Girl Tennis Tournament, first pair, Eva and Lucia, finished in the runners up spot and Bella and Holly were victorious in the second pair division.