King's High: 140 years young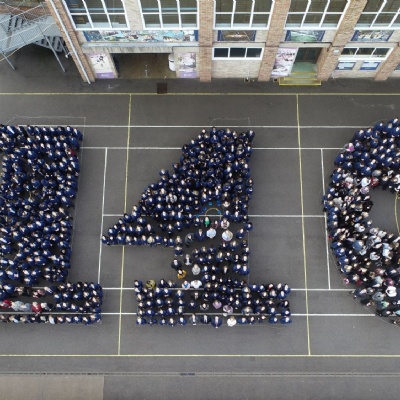 King's High's 140th birthday is in full swing. Festivities began with the 'official' anniversary photograph, and conclude with the Birthday Celebration Weekend and Farewell to Smith Street in July. In the meantime, the celebrations continue. Under the banner of The Landor Association, we welcomed Dr Lucy Worsley, leaders of our local charities, former pupils, and the heads of local primary schools. 140 attended the Old Girls' Lunch at King's High, to mark the school's 140th anniversary year. This was a marvellous occasion, enjoyed as much by the current King's girls, who gave Old Girls tours, as they enjoyed a last look around the Smith Street site. Classic FM presenter (and Old Girl), Catherine Bott gave a very amusing talk on Angela Brazil's classic school stories.
Girls have produced some stunning work for the House Photography competition – An Essence of King's – and Hepburn House's Lucy devised the winning recipe for the official Birthday Cake, in a competition that saw girls experiment with mulberries (appropriate for King's High, but rejected as being too bitter for a cake).
Forthcoming events include:
Monday 29 April
140th Birthday of King's High School, featuring the Birthday Cake, and Victorian Day - a day of lessons for girls as they would have experienced them in 1879.
Friday 3 May
Founder and Benefactors' Service at St Mary's, Warwick (Preacher: The Bishop of Warwick), and birthday activities for girls, including House cricket and birthday picnic.