Orchestra of the Swan - Arcadiana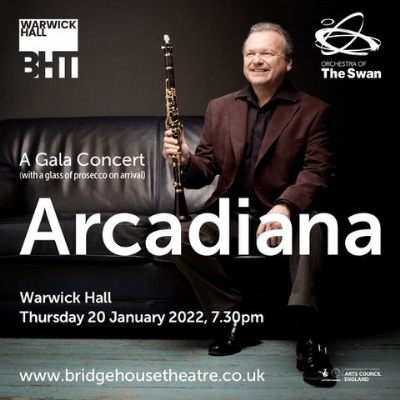 The Warwick Independent Schools Foundation and the Orchestra of the Swan are proud to announce their ground-breaking new partnership, aimed at creating a centre of musical excellence in Warwickshire on the Foundation site in Warwick. As part of this partnership, Orchestra of the Swan will perform three exciting and accessible concerts in Warwick Hall which will appeal to everyone.
The first concert on Thursday 20 January 2022 is titled Arcadiana. Directed and performed by dazzling virtuoso clarinettist Michael Collins, the centrepiece of this concert will be a performance of Mozart's Clarinet Concerto. Composed in 1791, it remains one of his most enduringly popular pieces and demonstrates Mozart's obvious love of the clarinet. Schubert's perfectly conceived 5th Symphony showcases his infatuation with Mozart and represents something of a personal tribute to his idol.
Book your tickets at bridgehousetheatre.co.uk