Enjoy our Environmental Tree of Hope at St Mary's Christmas Tree Festival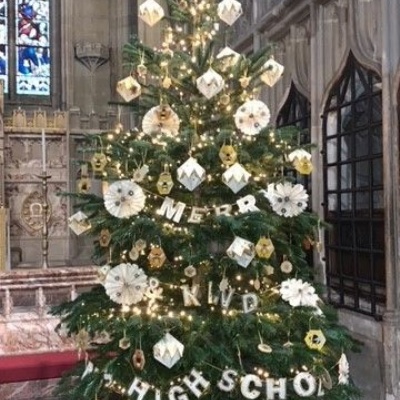 'This Christmas, unlike any other before, holds much needed hope for the future. It is with this shared hope that all of the King's High community send joyful Christmas wishes to all and health and happiness for the year.'
This is the lovely message our pupils wrote for their Christmas tree. Bees and honey have been a constant theme at King's this year, and our pupils chose to celebrate this with their beautiful Environmental Tree of Hope for the annual Christmas Tree Festival at St Mary's, Warwick. They wanted to highlight the plight of our wild bees, and celebrate the work of Caroline Renton and the Beekeeping Society. The paper decorations are made from pages of literature and poetry based on bees, and the hand-painted wooden hexagons each illustrate a different species of bee.
Our tree joins Warwick Prep's gorgeous 'Handmade Traditional' tree. This year's Christmas Tree Festival is bigger than ever, and we are proud to join over fifty Warwick businesses, charities, community groups and schools, including the Warwickshire Federation of WIs, Warwick Fairtrade, Guide Dogs, Warwick Bell Ringers, Evergreen School, Molly Olly's, Armonico Consort, Young Carers, Warwick Castle, Warwick Books, and The Friendship Project for Children.
The Christmas Tree Festival runs until December 5 at St Mary's. If you have not visited before, we can't recommend it more highly for some warm Christmas glow!