King's High Honey! All thanks to the efforts of our Beekeeping Society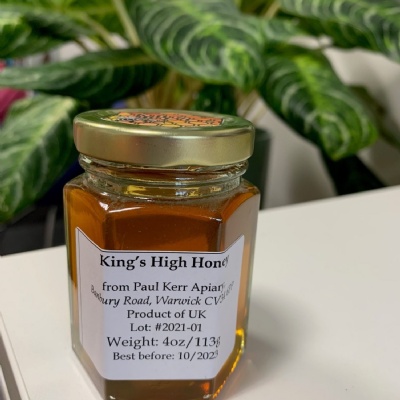 Our beekeepers have extracted their first crop of honey - Caroline Renton, Deputy Senior Head, tells the story:
'The King's High Beekeeping Society has been an exciting learning experience for everyone involved. With over twenty staff and sixty students registered, we have benefitted hugely from the support of the Warwick & Leamington Beekeeping Association, and with many of the staff volunteers coming to the hives fresh, we have also been very grateful for the expertise shown by a good number of our more experienced students too.
We began the season with the all-important tasks of building our hives, checking our suits were sealed and learning how best to safely handle our frames. Younger eyes have proved invaluable when finding the queen amongst her thousands of workers and we were excited to mark two queens during the summer holidays. There was initial excitement too when the opportunity arose only a few weeks in to catch a swarm and, although our visitors sadly moved on shortly afterwards, we all had a real sense of accomplishment at having taken on the task. It has been wonderful to see the confidence of all our beekeepers grow as they participate in both practical and theory lessons and we are now looking forward to caring for our hives over the winter – fondant has already been provided from our Catering Department - and getting ready for next spring.
Last week we took our first crop of honey and extracted the honey and some beeswax from the 'super'. Society members poured the honey into 4oz pots, and each will be labelled with the King's High Beekeeping logo, designed by Emily in Year 10, and information about the honey. We have decided to charge £5 per pot. Since demand is likely to outstrip supply this year, we have decided hold a raffle for parents, with all monies going to the Warwick & Leamington Beekeepers, who work to promote beekeeping to a high standard and to educate the public about honeybees.'