Sofia heads off competition worldwide to win Commended in global essay competition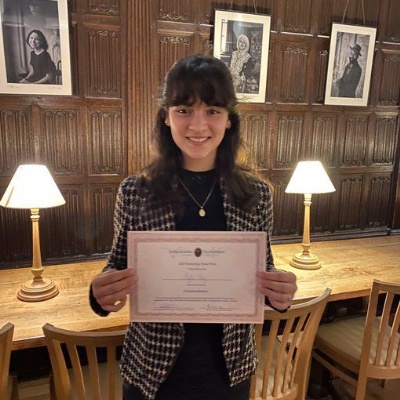 In contrast to instant news and short attention spans, the essay is having A Moment again, as people respond to longer, thought-out opinion pieces. This has long been the case at King's, where competitions like our Inspire Essay competition see entries rise year on year, but even here, there has been an outpouring of ideas, as students relish opportunities for independent thought, and explore topics that matter to them.
So it is wonderful to celebrate Lower Sixth student, Sofia's world-beating achievement in the John Locke Institute 2021 Psychology Essay Prize. This prestigious prize attracts entries from around the globe. There were over 4000 entries from 101 countries, with shortlisted candidates flying in from Greece and Korea for the awards ceremony. Sofia won Commended for her essay, and was presented with her certificate at the prizegiving at Magdalen College, Oxford.