King's High shortlisted for School of the Year for the Performing Arts, 2021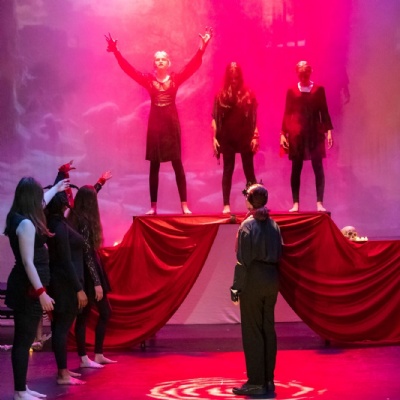 We are very proud that King's High has been shortlisted for School of the Year for the Performing Arts (Music & Drama) in the Independent Schools of the Year Awards 2021
Judges were impressed by 'a lovely culture of shared creativity in the performing life at King's High School'. In recent weeks, this has been shown by our youngest pupils coming together to perform three Junior Productions; the very popular Friday Live! lunchtime music sessions, and established stars of stage and screen returning to deliver Drama Masterclass workshops for our students.
King's High offers professional-level facilities for Music and Drama. The new Music Centre for King's High and Warwick Prep has created the best music facility in the region, and the Music Department actively works to reverse national trends – loss of funding, fewer pupils studying, the continued fall in qualified music teachers – by sharing facilities, and forging partnerships with organisations like Warwickshire Music Hub.  
Drama is a real strength at King's High, with pupils going on to successful careers in theatre, film and television. All girls in Key Stage 3 have weekly drama lessons, developing in mime, movement, role play, improvisation and storytelling. Over 80 pupils are taking Drama at GCSE/A Level and results are excellent. Over 150 attain Distinctions and Merits in LAMDA exams. As important is the buzz and enjoyment that exists around performing life at King's.
The Warwick Independent Schools Foundation is celebrating a clean sweep, having been shortlisted for awards across our family of schools. Warwick School has been shortlisted for Independent Boys' School of the Year. Warwick Junior School's School Diploma has been shortlisted for the Innovation Award for an Outstanding New Initiative, and Warwick Preparatory School is shortlisted for Prep School of the Year.
The awards, which saw record entries this year, attract hundreds of schools around the UK, from Aberdeen to Truro, as well as overseas nominations. Final winners will be revealed in the autumn.