National and regional sporting success for King's High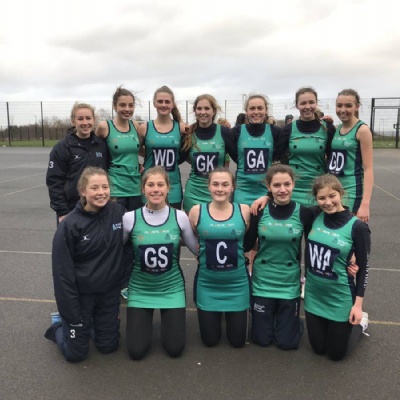 King's High's sports teams are celebrating an ongoing run of regional and national successes. King's U16 and U18 Netball squads won some exciting matches at the Midlands Regional Finals, to finish 4th in their respective groups, and 8th in the Region, which covers Shropshire, Staffordshire, West Midlands, Warwickshire, Worcestershire and Herefordshire. The U12 netball team qualified for the national semi-finals of the first Sisters n Sport National Schools Netball Cup.
The U16 Hockey team have been powering their way through the national England Hockey competition. King's swimmers continue to build on their success at the National ESSA Swimming Finals, where King's Junior team finished 12th, and the Intermediates 14th, in the country. There were impressive wins at the Warwick 100s and the squad has been busy around the region, at the Girls' Schools Association Gala at Stamford, and Worcester. The U12 and U13 swimming squads competed against 11 other schools in each age group at the Warwick 50s gala. The U12 Medley relay team started the proceedings in impressive style winning the first event of the day. There were a number of other excellent team and individual performances and King's High finished runners up.
Following some excellent results in the recent Warwickshire Schools Cross Country Event, Maddie, Laura, Emma and Gigi have all been selected to represent Warwickshire at the National Cross Country Finals in March.
Sport is strong across all ages, with the U12 Hockey team narrowly finishing runners up at the Loughborough Hockey Festival; four pupils training with Wasps Netball U19, U17 and U15s, three girls selected to play cricket for Warwickshire, and England Lacrosse Regional Academy Team's 14-year old Maddie named one of the Top Ten players at the Supercounties Tournament. Tennis player Lucia, Warwickshire's Number One U12, competed – a year early - in the U12 Summer National Tours Finals in Bournemouth last year.
Further inspiration came recently in the form of Sarah Parkinson-Mills, Director of Sport at King's High and Warwick Prep, who competed for Slough in the semi-finals at England Hockey's Jaffa Super 6s Indoor Finals at the Copper Bowl Arena in London's Olympic Park.
The Jaffa Super 6s, which were attended by Rio Olympic gold medallists Sam Quek and Kate and Helen Richardson-Walsh (who recently gave a demonstration at King's), is a highlight of England Hockey's calendar, especially this year, which sees London hosting the Hockey Women's World Cup in July. BBC Sports filmed the tournament, which featured five girls from King's High and five boys from Warwick School providing the Guard of Honour for the Men's Semi Final.