King's High celebrates 140 years of educating girls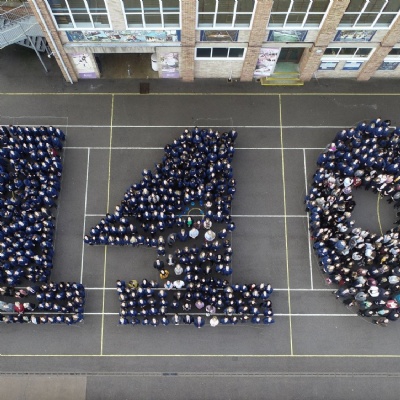 Our girls and staff have marked our 140th anniversary year by forming a human 140 at school!
2019 is a momentous year for King's High. King's is celebrating The Sunday Times 2019 West Midlands Independent Secondary School award, and celebrates – with great pride – 140 years of educating girls. This 140th birthday year, the King's High community – girls, Old Girls, staff, Governors, parents, friends – honours the pioneering spirit of King's founders, the school's rich history, and an exciting future, as King's High moves onwards to the new King's High – the stunning, purpose-built school, with world-class facilities for girls, on the Myton road campus – in September.
Girls are leading the way in the birthday celebrations. They have organised a House photography competition (The Essence of King's), and a cake competition. The winning recipe will be made into the official 140th birthday cake. Each form is making a video, capturing their own memories of the Smith Street site, and recent Old Girl and film student, Amber Hourigan is producing the official school film. A time-lapse camera is recording school life minute by minute, and the girls' 'Time Capsule Committee' is deciding what will go into a time capsule for the new site.
The Landor Association has a raft of celebration events planned. Do look at the brochure below for more details.