How King's High pupils and their artwork brought cheer to the NHS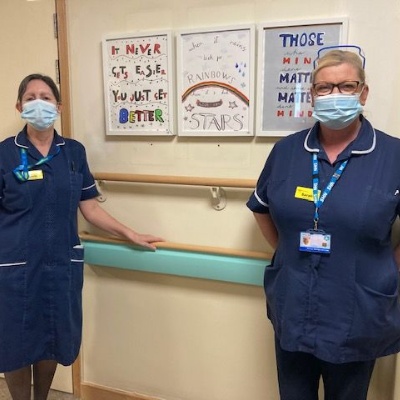 'King's High School has been like an emergency rapid response team during the Pandemic' - Caty Oates, Project Director, Warwickshire for Kissing It Better
Throughout Covid-19, students at King's High have been brightening the wards of Leamington Hospital with artwork, to provide some cheer for patients and NHS staff.
Pupils at King's High and Warwick School enjoy a long partnership with Kissing It Better, the healthcare charity whose simple and imaginative projects make a world of difference to older, vulnerable people in hospitals, care homes and the community, and help bring the generations together.
Students who missed their weekly visits to Warwick Hospital and volunteering with Kissing It Better still managed to keep connected through each lockdown. This included Zoom calls with local care homes, writing letters to older patients isolated in hospital, organising deliveries of Harry Potter audio tapes, and responding to Kissing It Better's appeal for artwork for Leamington Hospital.
Caty Oates, Project Director, Warwickshire for Kissing It Better, says: 'King's High has been like an emergency "rapid response team" during the Pandemic. Pupils have been so willing and quick to help us over the last year, using amazing creative talents to cheer up those in isolation. Their work will make such a difference in cheering up long stay older patients and also NHS staff - they love the pictures, which cheer everyone up.'
'It has been wonderful to be able to distribute hundreds of homemade gifts and cards, including book marks, hanging birds, hearts, knitted animals, lavender bags, as well as fabulous themed activity packs and reminiscence materials. The girls have also taken part in intergenerational Zoom calls with local care homes, sharing poetry and meeting the residents. It's been wonderful to see so many smiley faces, with older people feeling valuable and younger people feeling valued.'
The Art Department has been busy. Pupils came up with the idea of a series of motivational quotes and responded immediately to the request for laminated art work to brighten up bedside areas on the wards at Leamington Hospital. Larger, contemplative pieces are on display in the quiet reflection/prayer room, which is used by staff taking a much-needed break. Staff in the Physiotherapy Department love Rosie H's beautiful birds on ribbons, which will be used to brighten up walking frames for stroke patients, and will be decorated with their names.
Much thought has gone into the artwork, as Sixth Form student, Laura explains: "I considered producing a portrait, a landscape, or a still life piece. However, a portrait can appear too individual and personal. I chose a neutral, calming and reassuring image, partly inspired by the hands seen in Michaelangelo's Sistine Chapel ceiling and Rodin's 'The Cathedral' sculpture and aimed to produce a drawing conveying a universal and symbolic image of shared peace. The drawing shows my mother's and my older sister's resting hands; conveying the idea that whilst we may be unable to see each other in person, reaching out to one another illustrates the importance of care and connection across generations."