Careers events: girls look forward to their journey beyond King's High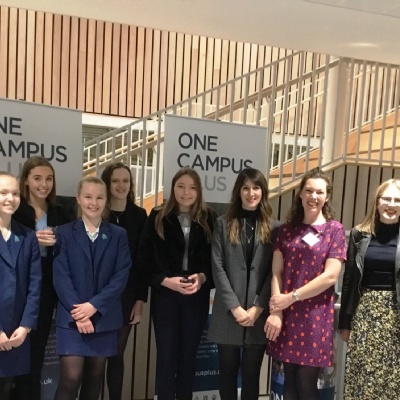 The busy Careers programme continues. The latest Careers event held in the new shared Sixth Form Centre on the Myton Road campus focused on Humanities. King's girls and boys from Warwick School heard speakers from the New College of the Humanities, Loughborough and Sheffield Universities, and welcomed back recent King's High Old Girls and Old Warwickians – Historians, Geographers, Ancient History, and English graduates – who spoke about their own careers in Banking, Management Consultancy, Government and Tech, before workshopping ideas with pupils.
This followed a combined parent/pupil Careers Hot-Seating event for Year 9 pupils, who asked parents questions about their own careers. These included: Artistic Director, Journalist, Choreographer, Surgeon, Engineer, Entrepreneur, Architect, Physiotherapist, Tech Expert, LEVC (originally the iconic black cabs London Taxi Company), Accountant, Medical Tattoo Artist…
Lunchtime Careers talks this term so far include the Gaming industry, Marketing, Chartered Surveying, the Military and Clinical Psychology, with a forthcoming talk from a Senior Industry Head at Google, on developing and delivering successful digital transformation strategies.