King's students support National Anti Bullying Week, from colourful socks, to discussing issues on Sky News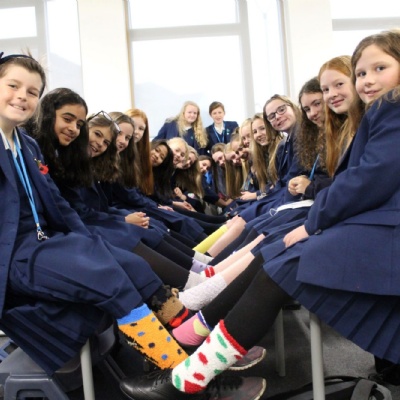 Our students are supporting National Anti Bullying Week. As always, they have come up with a host of ideas and initiatives. Some highlights include:
Supporting Odd Socks Day by wearing socks (colourful, wacky, home-made) throughout school.
Pupil, Rose featuring on news bulletins for ITV and Sky News, discussing effective measures against bullying in schools.
Seventy-five students training to become Antibullying Ambassadors with the charity, The Diana Award (King's High is a Diana Award national Showcase School).
Devising and presenting an online assembly for younger pupils at Warwick Prep.
Messaging campaign throughout school.
Rose is co-hosting a roundtable panel discussion for Sky's FYI programme for young people, alongside fellow pupil, Hope and Mrs Watson, together with representatives from Facebook, Demos, The Diana Award, and Vicky Ford MP, Parliamentary Under Secretary of State for Children and Families at the Department for Education. Rose will explain the role of our Wellbeing Ambassadors, and there is a possibility she may perform the song she wrote, as part of her successful application to The Diana Award's national Youth Board!