Professor Sir Jonathan Bate gives a Masterclass on Shakespeare and Life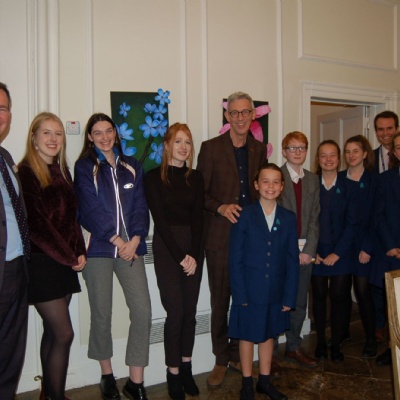 Professor Sir Jonathan Bate, Professor of English Literature at Oxford University, gave the Inspire lecture at King's High's Festival of Ideas. A world-renowned Shakespeare scholar, Professor Bate co-edited The RSC Shakespeare: Complete Works, and curated the British Museum's major Shakespeare exhibition for the 2012 London Olympics.
His talk, How Shakespeare Breaks Boundaries, showed how Shakespeare constantly broke boundaries - between verse and prose; pleasure and instruction; work and play; the elite and the popular. It was a dazzling talk, that combined the Classics, Acting, Literature, History, Religion, Politics and Theatre, and proved Ben Jonson's words that Shakespeare is 'for all time'. Girls presented Sir Jonathan with a donation for his ReLIT charity, the programme he and his wife, the biographer and novelist, Paula Byrne, created to aid mental health through Bibliotheraphy – the ancient art of healing through books.