Remembering World War One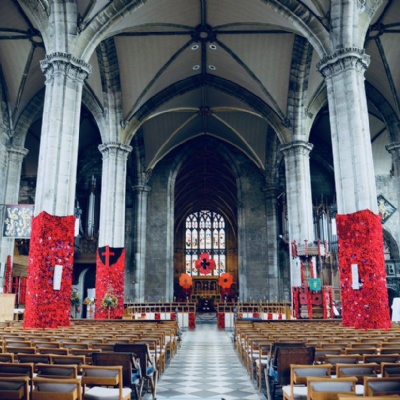 An extraordinary and remarkable week commemorating the Centenary of Armistice Day ended with King's High performing in We Will Remember at the Collegiate Church of St Mary's, Warwick.
This was the musical highlight of Warwick Poppies 2018. This spectacular, year-long community project filled St Mary's with over 63,000 handmade poppies - the largest display in the country – from all around the world. (Do go and see it, if you haven't had a chance yet - it runs until December 9).
With St Mary's columns turned scarlet with poppies, beneath the colours of the Royal Warwickshire Regiment, (the Warwicks lost 11,610 men in World War One), Alex Laing, Artistic Director (Music) across King's High and Warwick Prep conducted a performance of Duruflé's Requiem, interspersed with World War One poetry. The readers were Michael Maloney (The Young Victoria, and both Zefferelli's and Branagh's Hamlet), Anton Lesser, and Amanda Root. King's High's Choral Director (and St Mary's Director of Music), Oliver Hancock played the organ, making this a real family – as well as community - event for our Warwick Independent School Foundation pupils, as our Senior Choirs performed alongside musicians from Warwick School, the Warwick Poppies Chorus, the Gentlemen of St Mary's Choir, and Da Capo Chamber Choir.
Head Master, Richard Nicholson says: 'It was a deeply moving evening, and a fitting tribute at the end of an emotional day, commemorating the Centenary of the Armistice.'
This was the culmination of months of King's High's girls thinking about, and commemorating, World War One. At the start of events marking the outbreak of war, Mrs Gail Miller, Head of Health and Safety at the Warwick Independent Schools Foundation, wrote the risk assessment and worked with artist Tom Piper for his unforgettable installation at the Tower of London: Blood Swept Lands and Seas of Red. Following the King's and Warwick Prep Digital Collection Day for the Commonwealth War Graves Commission and Oxford University's nationwide Lest We Forget project, Abbey (King's) and Bee (Warwick Prep) were invited to talk about their relatives' wartime experiences on BBC Radio Coventry & Warwickshire, in the week leading up to the Armistice. (Abbey's great-great uncle won the Victoria Cross for galloping out on a captured German horse to rescue 10 men from No Man's Land).
BBC presenter, Vic Minett added their relatives' names to the World War One Memorial 100 tree she presented at the Centenary service in Coventry War Memorial Park. At King's, Mr Nicholson led a moving Remembrance Assembly, and the girls - led by King's CCF girls, with Megan playing The Last Post - held their own two-minute silence for all those who lost their lives.