King's High Welcomes Our New Year 7s Remotely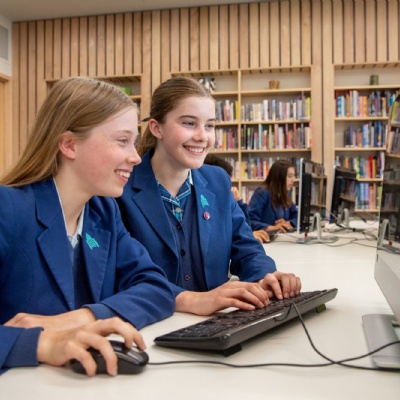 King's has been welcoming the girls joining Year 7 in September, running an extended virtual induction programme over the Summer Term.
During the first week, over 90 pupils joined the programme. They were introduced to key staff and enthusiastically participated in two virtual lessons, one with our Director of Educational Innovation, Mrs Jenny Parkinson-Mills, on 'learning how we learn' and the second with historian Mrs Wightman, who set the challenge of taking part in our 'Pepys Diary Project'.
Throughout the term, subject specialists are delivering a wide variety of fun lessons and, in addition, there are pastoral icebreaker activities, a virtual tea and quiz, with the perfect pet (real or virtual) showcase drawing the programme to a close. Each pupil will receive a letter of welcome from their 'big sister' in Year 8, and will be introduced to their Form Tutors, current Year 7 pupils and the student Wellbeing Ambassadors.
Mrs Shirley Watson, Head of Key Stage 3, commented: 'moving from primary to secondary school can be a big step even in normal times, but during the current school shutdown, transition could be particularly challenging. We want to make joining the school in September as welcoming remotely as it would be in any other year. It has been wonderful to see the girls taking part in the online events, and we look forward to introducing them and their families to the physical school just as soon as we can.'
Mrs Clare Topping, Head of Year 7, said: 'Getting to know our girls and their families, and them getting to know us, is the foundation on which everything else rests. It has been so good to welcome the year group 'virtually', and I am particularly looking forward to the tea and quiz in June, as well as leading my session with them on leprechauns and rainbows!'
Mrs Gina Worrall, Head of Admissions, said: 'For many of our families, the ambition to join King's has been long-held. The journey from the initial visit to the school and becoming a 'King's girl' can be many months, and sometimes years. We want the end of that journey - becoming part of the very special community that is King's High - to be as exciting as possible. The induction programme we have devised puts getting to know the girls at its heart - that is the King's High way, and is more important now than ever, when our physical schools are closed.'
Mr Richard Nicholson, Head Master, noted: 'Each generation of King's pupils bring their own special character to our community. The incoming Year 7 have already shown tremendous spirit in joining us and each other in the remote induction programme as part of our virtual school. Through the power of technology, and the ingenuity of the King's team, our aim is to ensure that every girl and family feels welcomed and at home in our online school community, ready for the exciting moment when we move back to the physical campus.'
Comments from parents have included: 'Our daughter is very much enjoying the induction sessions - thank you for the effort you're putting into running them', 'I think the programme of induction is excellent.'
Comments from pupils have included: 'thank you! this was AMAZING!', 'THANK YOU SO MUCH', 'I really enjoyed it', 'I am learning so much (Pepys project)', 'This is amazing – Learning to Learn.'
If you are interested in finding our more about joining King's High, please visit our school website or contact our Admissions team: admissions@kingshighwarwick.co.uk. For a glimpse into the online world of King's High and the Foundation schools, please visit our new community website: www.foundationathome.co.uk.
Following Dr Seal's session, Think like a Genius! Siobhan and Poppy presented their innovative ideas for windows and tables to the rest of the group.