New Girls Prepare for Sixth Form Remotely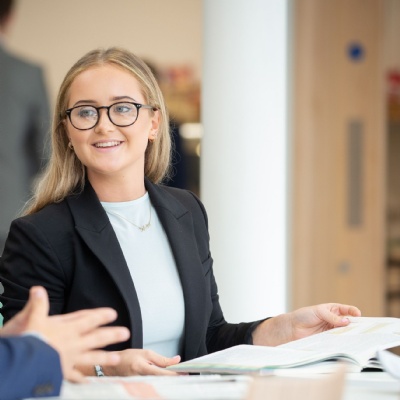 King's has been welcoming the girls joining the Sixth Form in September, running an extended virtual induction programme over the summer term.
The girls have met key staff, their Sixth Form pupil 'buddies', have begun work on their Extended Project Qualification, and will begin preparing for their A level subjects by undertaking work which bridges the gap from their GCSEs. Alongside these activities, there is a wide-ranging careers and enrichment programme, including talks from former pupils and leading academics.
Head of Sixth Form, Mrs Charlotte Murphy, said: 'It was so important for us to help our new pupils feel as comfortable and confident with life in our Sixth Form, even though that has to be done remotely. With the changes to the awarding of GCSE grades, it been a very uncertain time for pupils in Year 11: we wanted to ensure that everyone's transition to Sixth Form study was as smooth as possible, and that included creating a bespoke programme for girls joining us for the first time.'
Mrs Gina Worrall, Head of Admissions, said: 'External interest in joining King's is extremely high, with entry being very competitive. Pupils join us from many different schools, state and independent, and many different backgrounds. Our Sixth Form offers a wonderful education not just for A levels but for life beyond school, too.'
Mr Richard Nicholson, Head Master, commented: 'Our virtual Sixth Form, created during the Covid crisis, has not only seen learning in every subject continue, but an exciting careers and enrichment programme, organised by our Head of Futures featuring former pupils discussing their university experience and career paths, and leading academics offering further insight into a range of specialist subjects.
Sixth Form years are exciting and precious: they are the launching pad into the world. The Sixth Form team has come together to offer an outstanding programme to support our new girls and our current Year 11s, guiding them through the changes from GCSE to A level study, and offering opportunities to draw on the expertise and generosity of our wider community.'
We understand that changing school is a big decision, even in more normal circumstances. As a school, we are delighted to be able to offer this unique support for our new pupils, and delighted, that so many have been engaging in the sessions and already forming friendships.
Comments from parents have included: 'The induction programme has really reinforced to my daughter that King's was the ideal choice for her.'
'She is really enjoying the webinars and it has reinforced her decision to move to King's High. She has also heard from her buddy which is really nice.'
Comments from pupils have included: 'I am very excited to get on with starting EPQ because I have lots of many creative ideas based on Shakespeare bubbling inside of me!'
If you are interested in finding our more about joining King's High, please visit our school website or contact our Admissions team: admissions@kingshighwarwick.co.uk. For a glimpse into the online world of King's High and the Foundation schools, please visit our new community website: www.foundationathome.co.uk.