Lawn Tennis Association awards top bursary to Lucia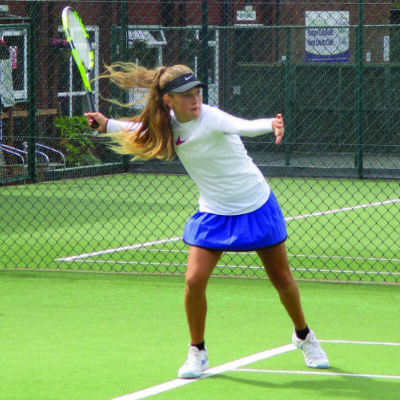 At the Warwickshire Lawn Tennis Association (LTA) Awards ceremony, honouring what the Stratford Herald describes as 'Stratford's top tennis talent', Lucia (Year 8) was awarded a prestigious bursary for her 'hard work and promise', having broken through to national junior level last year.
Aged 13, Lucia won her first age-group tournament on the national junior tour, but was unable to collect her bursary in person for the best of reasons, as she was in action for Warwickshire 18 and Unders at the Junior County Cup – one of the youngest girls ever selected for the side. She won her opening singles against Kent, dropping just two games.
In further news, King's High squad tennis coach, Lianne Candappa was awarded Warwickshire Lawn Tennis Association Coach of the Year. Lianne, Head Coach at Warwick Tennis Club, grew up, trained, and travelled with Andy and Jamie Murray as a junior, and is involved with Judy Murray's initiatives aiming to get more girls into the sport.