New Era for House System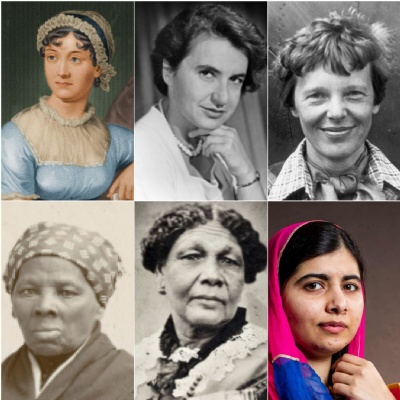 We are delighted to announce a new era for our house system at King's High with the names of our six new houses: Austen, Earhart, Franklin, Seacole, Tubman, Yousafzai.
These are the inspirational figures who gained the most votes from our students during our Big Changemaker Conversation, which resulted in our new Changemaker Gallery.
Jane Austen (1775-1817)
Jane Austen was an English novelist known primarily for her six major novels. Austen famously critiques and comments upon the British landed gentry at the end of the 18th century and her plots often explore the dependence of women on marriage and the pursuit of favourable social standing and economic security. Her most famous novels Sense and Sensibility, Pride and Prejudice, and Emma are all still very resonant today: Austen herself exhibited a strong desire to challenge the social norms by choosing not to marry and write novels instead.
Amelia Earhart (1897-1939)
Amelia Earhart was an American aviation pioneer. She was the 16th woman to be issued a pilot's license and first female aviator to fly solo across the Atlantic Ocean in 1928. As she was learning to fly, Earhart flew her plane to 14,000 feet – the world record for female pilots. She was seen by the public as a gracious woman who displayed remarkable talent and bravery. She was an accomplished and talented pilot who never panicked or lost her nerve. She tragically went missing whilst attempting to become the first female to complete a circumnavigation of the globe in 1937.
Rosalind Franklin (1920-1958)
Rosalind Franklin was an English chemist and X-ray crystallographer whose work was central to understanding the molecular structures of DNA, RNA, viruses, coal, and graphite. However, her contributions to the discovery of the structure of DNA at Cambridge University were not recognised in her lifetime and hence she was not awarded the Nobel Prize for Chemistry, which was instead awarded to her male counterparts. In the years before her death, she led pioneering work on the molecular structures of viruses at King's College London. Franklin tragically died of ovarian cancer at age 37, but her team member Aaron Klug continued her research, winning the Nobel Prize for Chemistry in 1982.
Mary Seacole (1805-1881)
Mary Seacole was a British-Jamaican nurse, healer, and businesswomen. She was a highly experienced nurse but, despite that, she was denied entry to the nursing contingent for the Crimean War due to racial prejudice. By the age of 12, Mary helped run the boarding house where many of the guests were sick injured soldiers. She travelled independently and set up her own 'hotel' to tend to the wounded. Mary cared for victims of the Kingston cholera epidemic and victims of the yellow fever epidemic. She was arguably the first British nurse practitioner, ahead of Florence Nightingale. Seacole was voted the Greatest Black Briton in 2004.
Harriet Tubman (1820-1913)
Born into slavery, Harriet Tubman escaped and subsequently made some 13 missions to rescue approximately 300 enslaved people, including family and friends, using the 'underground railroad' network between 1850 and 1860. Tubman remained active during the Civil War, working for the Union Army as a cook and nurse, then quickly became an armed scout and spy. Tubman was the first woman to lead an armed expedition in the war, which led her to liberate more than 700 slaves in South Carolina. In her later years, Tubman was an activist in the movement for women's suffrage.
Malala Yousafzai (1997-present)
Malala is a Pakistani activist for female education and is known for her human rights advocacy for women's rights, especially in Pakhtunkhwa, Pakistan where she was born on 12 July 1997. When she was 11, she wrote a blog for the BBC detailing her life under Taliban rule of Swat, a district of Pakistan. It recorded her thoughts during the First Battle of Swat, which caused fewer girls to attend school. Her school was later to be shut down. As Yousafzhai became more recognised, death threats against her were published in newspapers and slipped under her door. On 9 October 2012, a Taliban gunman shot Yousafzai on the side of her left eye, as she rode home on a bus from her exam. In 2014, she won the Nobel Peace Prize, becoming the youngest Nobel laureate. She then went on to continue her education in the UK and graduate from Oxford with a degree in Philosophy, Politics and Economics in 2020.