King's High Celebrates A Level Success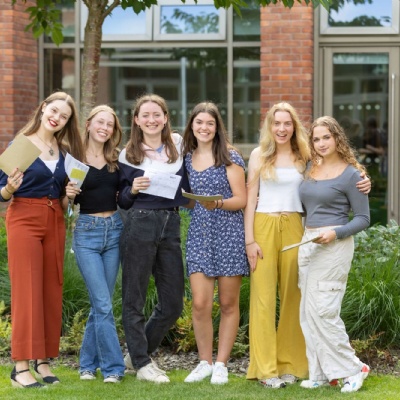 King's High Celebrates Success with their Students
This year's Sixth Formers at King's High School, Warwick are celebrating excellent A Level results and are looking forward to top university places. They have worked tremendously hard, showing diligence and perseverance through their studies to achieve results of which we are very proud.  
Dr Burley, Head Master, said, 'I am so proud of our Upper Sixth students, who had their GCSE exams cancelled and were awarded  Teacher  Assessed Grades instead. This meant that these A Levels were their first formal public exam experience, and I am so pleased to celebrate their achievements today. Their spirit has shone through, and they all have very bright futures ahead of them.' 
There was particular success in a range of individual subject areas with every student in Computer Science and Music achieving A* or A grades, and all students of Geography, Drama, English Language, Further Maths, German and PE achieving A*-B grades. In Geography, over 60% of students achieved A* or A grades with  around half of all our cohort at King's High achieving these top grades. 
Pupils are now looking ahead to a range of exciting future options, with the large majority achieving places at their first choice and Russell Group universities. One student who achieved 3 A*s is heading to St Hilda's College, Oxford to read History; another who achieved 3 A*s is going to read Music at Downing College, Cambridge; another, who achieved 3 A*s and an A is going to read Natural Sciences at Durham. One student, who achieved A*AB, is going to study Sports Science at Nottingham on an Army Scholarship before taking a place at the Royal Military Academy at Sandhurst.
Head of Sixth Form, Ms Celia Tedd, commented, 'I am incredibly proud of all our pupils who have approached their first public examinations  with impressive energy and ambition. It's exciting to see such a remarkable range of destinations and to celebrate with them today.'
Warwick Schools Foundation Principal, Mr Richard Nicholson stated, 'I am immensely proud of the achievements of all of our Foundation pupils today. Having missed out on sitting their GCSEs in the usual way, this cohort has shown determination and resilience and can now reflect on their exceptional achievements. They have an impressive launching pad for their future endeavours, and to make the most of all the opportunities beyond our schools. However, they could not have done this without expert staff and the support of their families. It is truly a whole community celebration.'