Grade 9 is once again the magic number at King's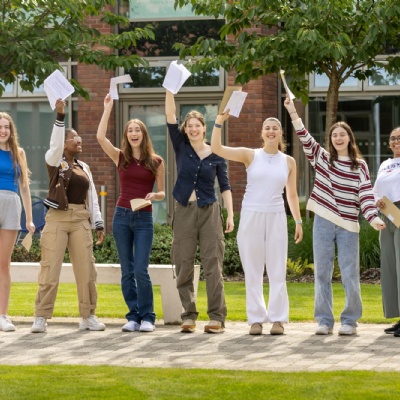 The majority of King's High students have, once again, achieved Grade 9 in their outstanding GCSE results.
King's High School pupils are celebrating, having registered an outstanding set of GCSE results. In a year that saw grade boundaries return to the pre-Covid levels for the first time since 2019, Year 11 students achieved results that managed to top pre-pandemic outcomes.
An amazing 54% of grades awarded at the school were at 9/8, with around three quarters of all grades at 9-7. In English Language, more than 44% were graded at 9, with two thirds of grades in English Language and English Literature at grades 9-8. In Computer Science all students achieved grades 9-8, with over 86% in Drama achieving the same top grades. In Food, 95% achieved grades 9-7, with 87% in Art and 80% in History achieving these grades.
Head Master, Dr Burley, said: "I am delighted to be celebrating our students' exceptional achievements today in their GCSEs. They have worked tremendously hard and, despite the sharper grading nationally this year, they have achieved outstanding results. I could not be more proud of them. Their success is down to their hard work and commitment, alongside great support from a brilliant staff team.'
Deputy Head Academic, Dr Seal, said, 'These results feel particularly special. Pupils in Year 11 have shown that self-belief and hard work in the face of challenge and disruption can lead to dazzling results. The amazing staff team at King's are exceptionally proud of our pupils for both the grades they have achieved and for the strength of character they have shown along the way. We wish them well-deserved and joyous celebrations.'
Mr Richard Nicholson, Principal of Warwick Schools Foundation, commented: Mr Richard Nicholson, Principal of Warwick Schools Foundation, commented: 'I could not be more proud of the Foundation's GCSE pupils. They have applied themselves with focus and determination, characteristics which have paid dividends with such outstanding results, ensuring that they are exceptionally well prepared for the next stage of their education. I hope that they and their families are truly proud of their achievements.'